Celebrating our St John's staff on World Teachers' Day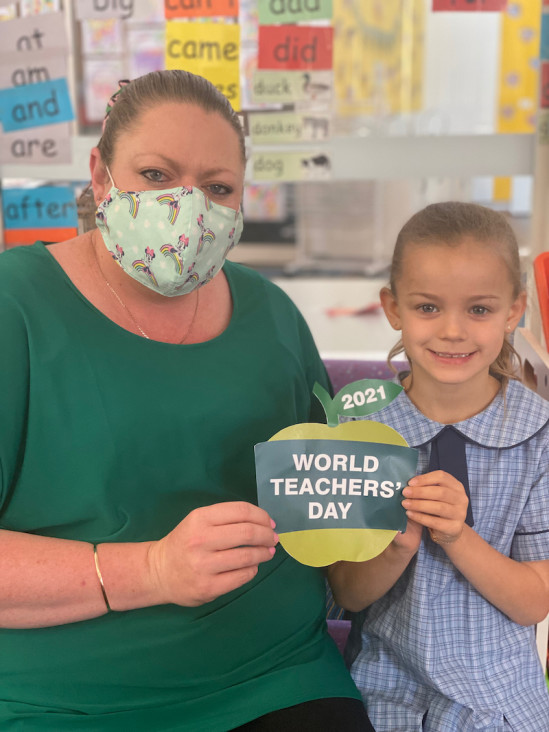 Our staff at St John's Catholic Primary School are passionate and committed to each and every student at our school.
They consistently go above and beyond to ensure the students feel safe and supported as they learn to love God and grow through their learning.
In the words of one of the Year 5 students, "If teaching were an Olympic sport, literally every teacher here would win a gold medal!"
World Teachers' Day was a day to celebrate all the hard work carried out by our teachers.
While the gifts, morning tea and coffee all formed part of the celebrations, the most meaningful thanks came in the form of handmade cards and words of gratitude from our students and their parents.
What our parents say about St John's staff:
"Thank you to all the special teachers at St John's. You make my daughter's world a little brighter with you all in it!" Melanie, said.

"Thank you to all the amazing teachers at St John's. We are so blessed to have you fill their day with fun learning skills," Poupee wrote.

"Could not be part of a better school community. So blessed to have our girls at St John's," Steph said.

"All the teachers to an amazing job. As a parent I appreciate it so much," Lisa wrote.

"Our real heroes! Thank you to all of the amazing staff at St John's for your dedication and commitment to our little loves. God Bless you all!" Sherelle said.

"Thank you so much to all the teacher at St John's for supporting us and our children through out this hard times. All your hard work is much appreciated," Meela said.
World Teachers' Day Photo Gallery